Before jumping into the usual recap of the weekend that was, the big news today was that UMass defenseman William Lagesson was named to the preliminary World Junior Championship roster for his native Sweden.  This isn't a big surprise since he played for the Swedish junior team last winter.  The last Minuteman to play in the World Junior Championships was Stephen Werner in 2004.
Lagesson has played very well for the Minutemen so far this season, perhaps being the best defenseman on the team in just his first year.  Though Lagesson would miss the games against Army West Point and Yale to start January, he is expected to be back in time for UMass' first league game of the new year against Boston University.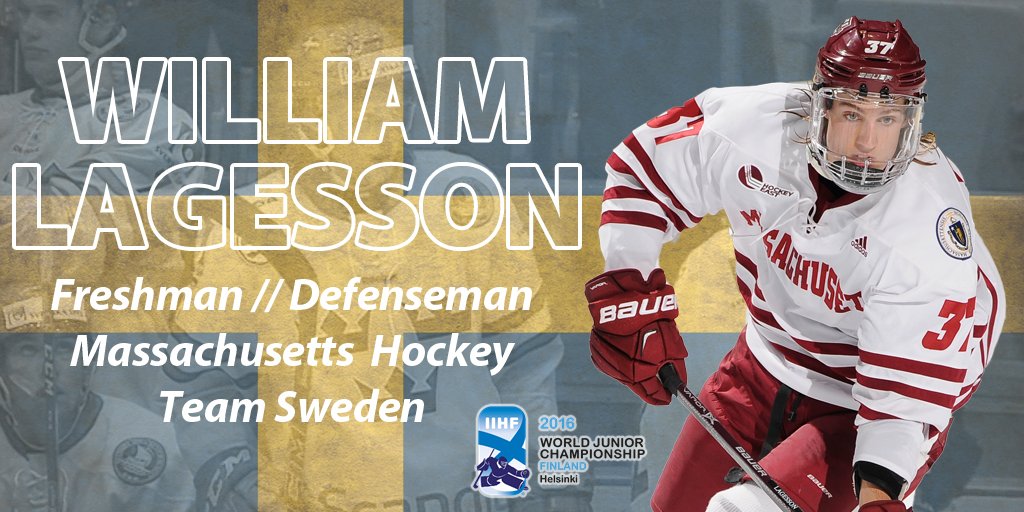 graphic by UMass Athletics
▲
The eye-opening result of the weekend in Hockey East was last place UConn sweeping 5th ranked Lowell in a home and home series.  Northeastern, which was tied with UConn for last place, tried to do the same against second ranked Boston College.  But on Saturday the Huskies could only manage a come from behind tie and on Sunday ended up losing to the Eagles 4-3 despite having a 3-1 lead heading into the third period.  Top ranked Providence didn't struggle as much as the other top Hockey East teams as they swept their weekend series against Merrimack, though lost star defenseman Jake Walman to injury in the process.
After losing three straight Vermont showed some life by splitting their weekend series at Boston University.  And rivals New Hampshire and Maine tied 3-3 in Orono on Friday before the Wildcats grabbed a 5-2 win in Durham the next night.
UMass finds themselves in a four-way tie for 6th place with 8 league points.  It's tough to gauge the standings right now just because the teams have played a wide range of league games so far, anywhere from Lowell's 11 to Providence's 6.
Not surprisingly UConn had two players honored with weekly awards by the league after their big weekend.
▲
Providence remains the #1 team in the country with their sweep of Merrimack.  BC drops a spot to #3 after giving up a tie to Northeastern.  Lowell is lucky to drop only three spots to #8 after being swept by UConn.  BU's split with Vermont drops them to 12th.  Notre Dame's sweep of UMass gains them a couple spots in the rankings, moving up to 18th.  And Merrimack continues to slide, but are still in the poll at #19.
USCHO.com Division I Men's Poll
December 07, 2015
Team

(First Place Votes)

Record

Points

Last Poll

1

Providence

(39)

11- 0-3

986

1

2

Quinnipiac

(10)

15- 0-2

951

3

3

Boston College

13- 1-1

898

2

4

North Dakota

( 1)

14- 2-2

867

4

5

Nebraska-Omaha

12- 3-1

771

6

6

St. Cloud State

12- 4-0

742

7

7

Harvard

6- 1-3

669

8

8

Massachusetts-Lowell

10- 3-4

629

5

9

Michigan

8- 2-3

555

12

10

Cornell

8- 1-2

514

15

11

Denver

7- 5-2

459

9

12

Boston University

8- 5-3

455

11

13

St. Lawrence

9- 4-2

363

13

14

Bowling Green

9- 3-5

325

14

15

Yale

5- 4-2

300

10

16

Penn State

10- 2-3

276

19

17

Minnesota-Duluth

7- 5-3

252

17

18

Notre Dame

8- 4-4

182

20

19

Merrimack

6- 4-4

141

16

20

Minnesota State

8- 6-4

60

NR

Others receiving votes: Michigan Tech 46, Robert Morris 23, Rensselaer 21, Holy Cross 7, Alaska-Anchorage 4, Michigan State 4.
▲
College Hockey News had a really good piece on Minuteman netminder Nic Renyard, his path to Amherst, and what a difference he's made for the team.
UMass coach John Micheletto had a series of six tweets this afternoon centered around the team's performance on the road and the fact that the team has played a good number of their games away from the Mullins Center so far.  Here's a sample:
Yes, the team has not had a lot of home games during this first half of the season, though they will have another this Friday before heading to winter break.  And yes, it may have affected the team this past weekend when they flew out to South Bend for two uninspiring losses to the Irish.  But Micheletto taking to Twitter to repeatedly point out how much his team had to play on the road in the first months of the season was strange.  Especially on the heels of the announcers on NBC Sports Network's national broadcast talking about how he called it out during their conversations with him as well.  It also doesn't explain why the team played so poorly in their most recent home games against Merrimack and Quinnipiac.
I had a number of people comment to me today that the tweets were pretty odd, especially because he has never used social media in that way before.  You have to think Mick is starting to feel the pressure with the team starting to trend downward and now under .500 after their hot start to the season.  But if the tweets were meant to gain some sympathy, judging from the feedback I got, that probably didn't happen.  Publicly and privately throughout his tenure as UMass head coach fans have heard a litany of reasons why the team has been unsuccessful.  The cupboard was left bare by the prior coach.  The prior coach did not recruit "finishers".  Mick needed "his" type of players.  The team is too young and inexperienced.  The team has too many underclassmen.  And now, the team has had too many road games.  UMass hockey fans, the ones that are left, have done their best to be patient and understanding but I think I can speak for most of them when I say that at this point constantly being fed reasons why the team isn't successful is just tiresome.  Fans don't want excuses.  They don't want road stats.  They want wins.
Plus, the risk with blaming a road-heavy schedule in the first half is that you're setting up the expectation that things will be easier in the second half.  Well the team will play nine games at the Mullins Center and just seven games away.  But they'll have to do so against tougher competition.  The teams UMass has faced in the first half, including Union on Friday, have a combined win percentage of .511 and UMass has gotten their wins so far against the very worst of those opponents.  UMass' victories have come against teams with a combined win percentage of .292.  In the second half of the season UMass will have to play teams that currently have a combined win percentage of .526.  And 9 of those 16 games will come against teams that are currently ranked.  Home or away that's going to be a tough gauntlet to get through.