"This upcoming chapter of UMass hockey could be the best one yet in the program's history…..My advice to everyone is to get on board. Support this team and its new leadership with your presence, your voice, and if possible your wallet because the program can really only be successful if the faithful rally around UMass hockey. There's new blood behind the bench and new blood in the AD's office. Those are the two spots we've kept pointing too as holding back UMass hockey from being competitive in Hockey East and nationally."
I was optimistic when I wrote those words in the Summer of 2016 in my farewell post. Ryan Bamford, on the job for about a year and a half, had replaced head coach John Micheletto at the end of the season with Greg Carvel, a well-thought-of former NHL assistant coach who had had success as coach of his alma mater, St. Lawrence, though had not been able to get them to the NCAA tournament.
Did I think when I wrote that that Carvel would win just five games in the upcoming season? Yeah, sadly plausible.
Did I think that just two years after that 5-win season that Massachusetts would appear in, but lose, the national championship game? Ha, as if.
Did I think that two years after that Frozen Four appearance Massachusetts hockey would reign supreme over all college hockey as the 2021 National Champions? Not in my wildest dreams.
UMass, with just one NCAA appearance as of 2016, regular tenants of the Hockey East cellar, a laughingstock at various points in its history, would soon appear in consecutive Frozen Fours, take on the entire "State of Hockey", and dominate in the championship game and lift the trophy? If I wrote that in my final FTT post people would've thought I'd gone crazy. I would've thought I'd gone crazy
How in the world did this happen? And how did it happen so quickly?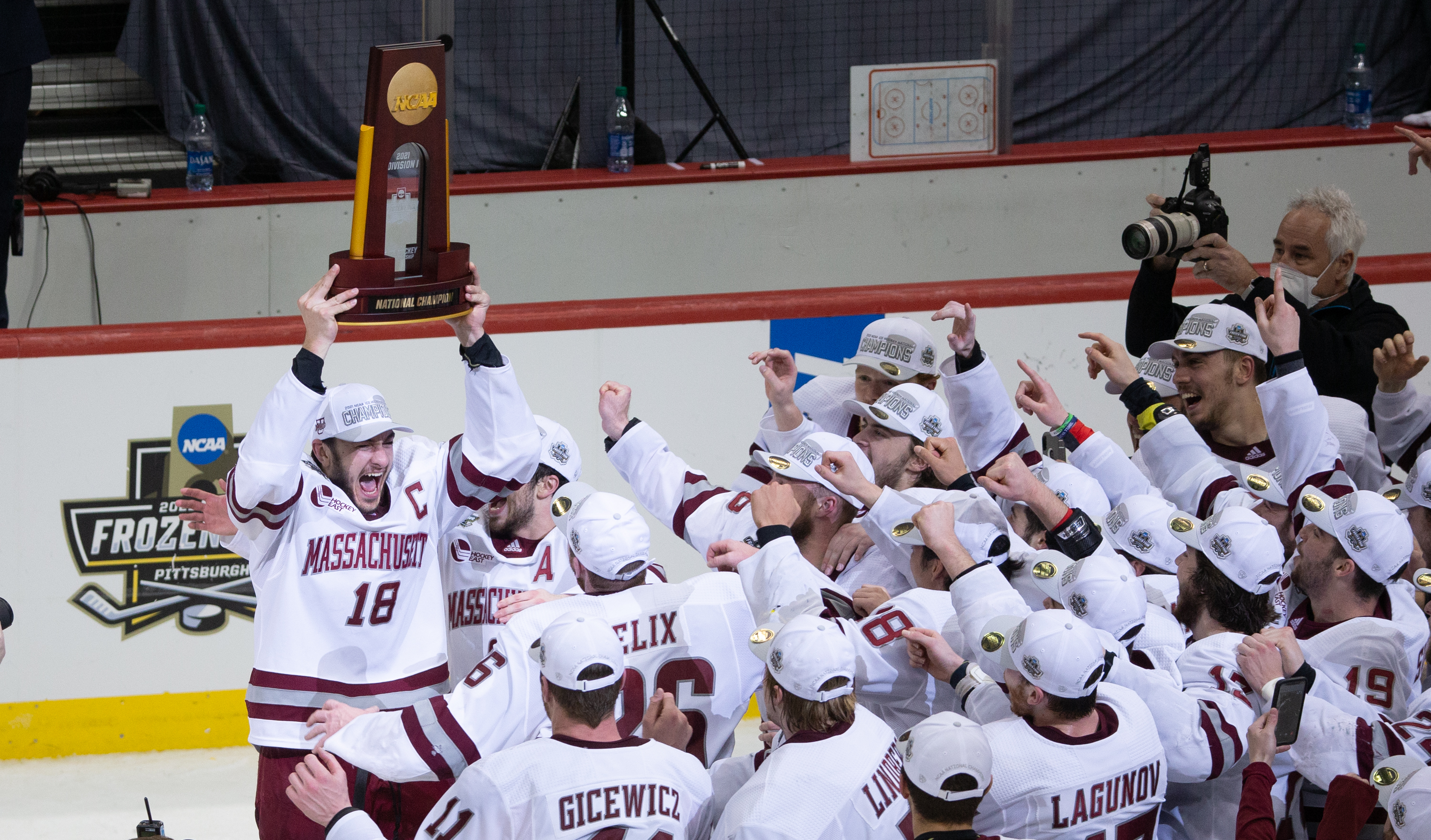 There are many who have had a hand in this whiplash-inducing turnaround. Obviously the players are near the top of that list. They've all done such a great job. 4th liners, draft picks, Hobey winners and everyone in between have done their job and they've played the roles needed as the situations have dictated at the time. 4th liners have become goal-scorers when needed and superstars dive on the ice to block the puck. The quality and character of the players in the last few seasons is truly spectacular.
All the support staff for the hockey team and athletic department have likewise been tremendous. And honestly they were even when the team had a bad coach and wasn't winning games. They've always been true professionals that pour their souls into their jobs. That was no more evident than this season where they helped the team successfully navigate a championship run during a historic and at times very scary pandemic.
The fans. They lived up to the words I cited at the beginning of this post and rallied around the new coach, the program, and became a force. They did it with their attendance, their donations, and their voices. From the people who followed the program back before the triangle era to the incoming freshman who decided to check out a game and then never missed another the fans were always there for the team. As someone who spent many a night in a near empty Mullins Center I am still overwhelmed to see just how big and how tight the UMass hockey community has become.
But there are two people who are most responsible for UMass hockey's new place of prominence.
Ryan Bamford spotlighted the hockey program during his introductory press conference:
"I am enthused to get back on campus after four years of being away from college hockey. Hockey East is arguably the best conference in the country. And that's something that I want to help [with]. I want to help be the best hockey program we can be."
And he did. Unlike his predecessors he prioritized the hockey program. Not over the basketball and football programs but gave it the right support needed to fulfill its potential. A fellow fan on Twitter remarked over the weekend that Bamford seemed to treat a column I wrote in 2015 about what was needed for UMass to join newly crowned champion Providence in hockey relevancy as a checklist. Finally get a hockey pep band in the stands? Check. Do a better job at community outreach? Check. Increase Pond Club membership? Check. Repair relations with hockey alumni? Check. Engage with fans and improve the fan experience. Check and check. Improve facilities. Big check. UMass now has a state of the art weight room, improved training facilities, and a new video room. As I write this work is starting to renovate the Mullins locker room to the tune of two million dollars, 100% fundraised.
And of course, hire the right coach. Check. Bamford getting Carvel was a surprise since he had just signed an extension to coach at the school he had played and located in his hometown no less. Carvel wasn't going anywhere. But Bamford made the call. And kept calling. Selling the school, the facilities existing and planned, the conference, and the potential. Potential to compete for a Hockey East championship. Potential to compete for a national championship. And Carvel arrived in Amherst to coach UMass hockey.
If you were to ask me the key aspect of Greg Carvel's coaching success I'd say that he finds the right players. Not the highest rated players per se, although he and his talented staff, Ben Barr and Jared DeMichiel, have a terrific eye for skill. No he finds the players that will buy into the culture he has established. He doesn't care about where they're rated for the upcoming draft or what state or province they're from. He just wants players that are going to buy into his system, buy into UMass hockey, and buy into each other. The players that will get on the ice and block a shot and that will always have a stick in the passing lanes. Smart players that will know to cycle back to the blueline when a defenseman pinches in and that will know that quality chances trump all. Players that will take every faceoff seriously and will skate the extra laps on Tuesday to be conditioned for overtime on Saturday.
This year's championship team was largely a blue collar one. Sure there was terrific talent that will excel at the next level like Zac Jones and Matt Kessel. But how many people around the country had heard of Jake Gaudet before this tournament? Frozen Four Most Outstanding Player Bobby Trivigno had few scholarship offers besides UMass. And that's what made this team so special. It was a team in the truest sense of the word. Everyone, absolutely everyone, stepped up in different games to get needed wins. Just this past championship weekend featured Matt Murray unxpectedly jumping back into the starting role for a semifinal win, freshmen Ryan Sullivan and Aaron Bohlinger teaming up for a thrilling score, and Phil Lagunov ending up with the #2 play on Sportscenter. These are not the household names that line the roster of Boston College or Boston University. But those unheralded players stepped up when needed, came together as the season went along, and succeeded where the draft pick laden teams failed.
Character. Team. Culture. Carvel's vision from his first day revolved around these concepts and it delivered a national championship in just five years.
And I can't thank him enough for it. I wasn't sure I'd ever see a national championship. I figured eventually UMass would win Hockey East and would likely find its way to the Frozen Four sometime, probably. Hell, they were a newly healthy Ben Bishop away from the Frozen Four once before. But a national championship? There are numerous storied, successful programs out there who have never raised the trophy. New Hampshire. Clarkson. St Cloud State. A national championship was plausible but didn't seem real. But it was real to him. He had a vision. He assembled a staff. Recruited a team. Had a game plan. And didn't even let a pandemic get in the way. And the faith and loyalty of so many UMass hockey fans who had sat through all of the lonely and tough times was rewarded. And for that I'll be forever thankful.
I don't know what comes next for the program. Between what Bamford has done from an administrative standpoint and what Carvel and his staff have done from a recruiting and culture standpoint this program is built for sustained success. But my advice is to enjoy every moment that comes between now and when a champion is crowned next April. Enjoy every celebration. Banner raisings. Trophy presentations. Congratulatory press release. Soak it in. Let it lift your spirit. And never forget it. This season, this accomplishment was a bright spot in one of the darkest time periods at least in my lifetime and I know how much it helped my state of mind and got me back to thinking of optimism and better days ahead. And for that I'll also be thankful.
Massachusetts Hockey – National Champions. A storybook ending. And what happens at the end of storybooks?
"Don't forget what happened to the man who suddenly got everything he always wanted….He lived happily ever after."
– Willy Wonka